Klimbos near Amersfoort
After a 10 to 15 minute drive from Amersfoort, you are already standing in front of the entrance to Adventurepark Veluwe of which Klimbos Harderwijk is a part. And because it is right next to the A28 motorway exit, it is easy to reach the climbing forest from all directions. the climbing forest can be reached easily from all directions.
In addition to the infinitely long and challenging climbing course with 3 different levels, you should also have done the Rollercoaster Zipline! Here you zoof at high speed through the the bends of the roller coaster that goes straight through the forest. Unique in the Netherlands. In addition, you can make a free fall of 16 metres and you can duo zipline! Anyone can come Anyone can come and climb as long as they are taller than 1.20m and weigh less than 120kg. A day out for everyone!
Situated along the A28 and N302, on the Veluwe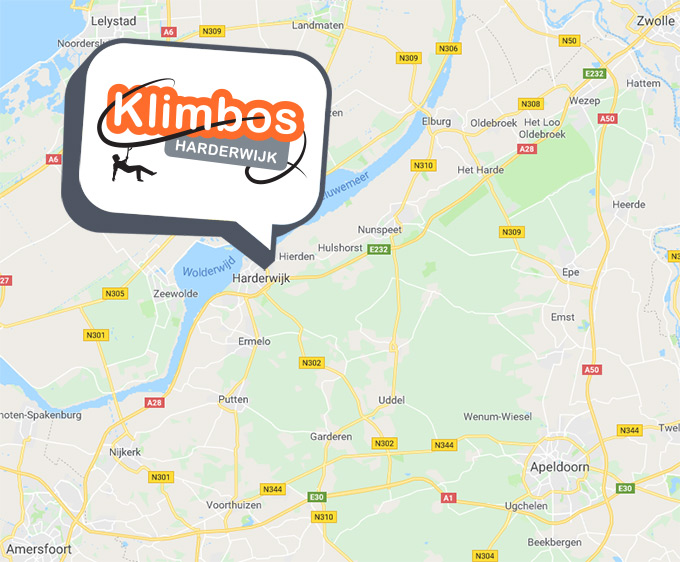 Harderwijk is a cosy Hanseatic town, located on the
the Veluwe
. A visit to Klimbos Harderwijk can therefore be ideally combined with a day out on the Veluwe or on the boulevard of Harderwijk. From Amersfoort it is only a 15-minute drive and you can park your car there for free! free parking!
Would you like to try the only Rollercoaster Zipline in the Netherlands? And are you not afraid of a free fall to a height of 16 metres? Then come climb at Klimbos Harderwijk and enjoy a fun day out with your friends, family, colleagues or family at Klimbos Harderwijk, near Amersfoort.
Tip:
Fan of Escaping? Then also check out our
Escape Tour Amersfoort
!
Book now
Climbing at a discount!
Are you an early bird? Then come climb in the morning to
9.30 a.m.
and benefit from a nice discount.
What did our visitors say?
Judith Boertjens: "Beautiful birthday had, the kids had a great time climbing and the birthday boy really enjoyed it. Highly recommended!"


Mrs I Andriesen: "Had a very nice outing with some friends. Especially since it was still pretty quiet. We were able to do our own thing and laughed a lot."


Mrs T vd berg: "Super enthusiastic and helpful staff!"


Ce Kalac: "Not worth repeating. Setback and waste of money. Information on website is misleading making you think it is also suitable for small children. Not recommended!"


Peter Lisseveld: "Lovely location with some nice tracks. Not the most challenging park that I've been to but very nice and well maintained. It was quite crowded which caused waiting lines."


Here you can find Klimbos Harderwijk
Directly along the A28
near Harderwijk, less than
20 minutes from
Amersfoort & Zwolle
Boekhorstlaan 2
3847 LP Harderwijk
info@klimbosharderwijk.nl