Unique climbing experience at Klimbos Harderwijk
Klimbos Harderwijk is not just any climbing forest. It doesn't just consist of various climbing routes at 4 different levels. No, you can also free fall from a height of from a height of no less than 16 metres, and you can experience the unique Rollercoaster Zipline! With the spectacular Rollercoaster Zipline you will fly at great speed through the bends of the 200 metre long zipline. An experience that cannot be experienced anywhere else in the Netherlands.
Klimbos Harderwijk is suitable for children from 1.20 metres. The perfect family outing! Would you like to get a nice impression of the climbing routes, Free Fall and Rollercoaster Zipline?
Check out the video
.
---
Rollercoaster Zipline
The Rollercoaster Zipline is a spectacular activity that you can only experience at Klimbos Harderwijk in the Netherlands. You start at a height of 16 metres and whizz through the climbing through the climbing forest. Not just straight on from platform to platform, but through a winding zipline that really gives you the feeling of a rollercoaster!
In short
Unique in the Netherlands!
200 metres long
16 metre height
At high speed through the bends
A real rollercoaster feeling
---
Free Fall
(Temporarily unavailable)
Do you dare to jump from a height of 16 metres? At Klimbos Harderwijk you can take on the challenge. From our high tower, you'll leap down in a single bound. Naturally, you'll be safely caught by our safety system, which will bring you back down to both feet on the ground. Maybe a bit scary, but certainly unforgettable!
In short
16 metres high
Guaranteed adrenaline kick
Suitable for young and old from 1.20 m
---
Overview of climbing routes
In addition to these spectacular experiences, you can of course also just enjoy climbing and clambering around in Klimbos Harderwijk. The forest consists of various climbing elements. You can ride the E-chopper You can ride an E-chopper at great height, avoid punching balls, ride a horse, swing a Tarzan, go zip-lining and duo-ziplining. The climbing routes are divided into 4 different levels, and you can choose your own route along the way. choose which route you want to take. Below is an overview of all the climbing routes.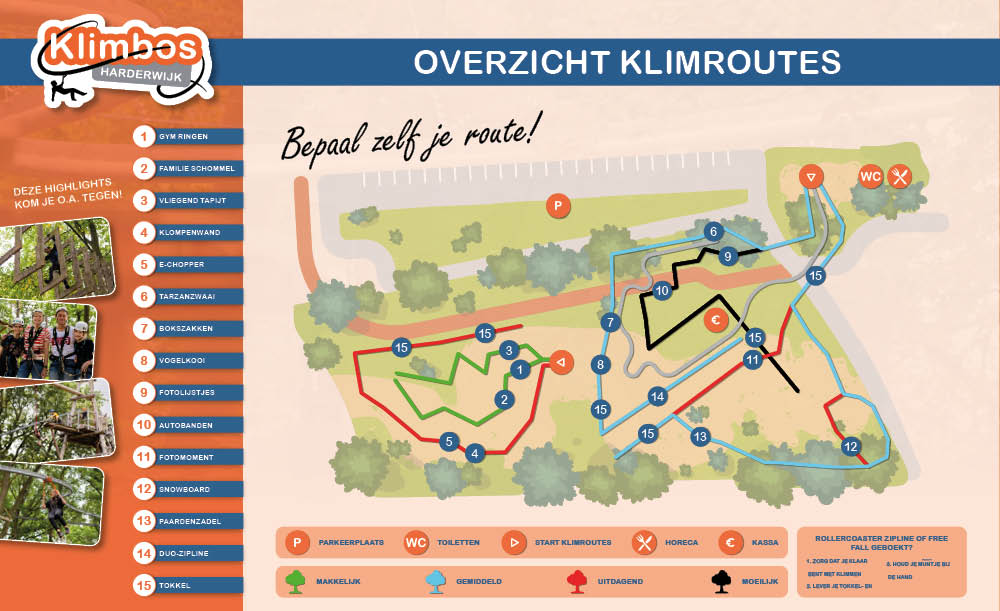 Climbing at a discount!
Are you an early bird? Then come climb in the morning to
10 a.m.
and benefit from a nice discount.
What did our visitors say?
Léon Van welie: "Nice activity for the weekend when you want to do something sporty for a while! Very nice climbing forest and the staff are helpful and nice."


Marlice Geerlink: "We had a great afternoon. The time flew! "


Mrs J Van dam: "Really great climbing forest, super nice staff, you guys get a big 10 from us!!!"


Rosalinde van Gunst: "Had a great day. Jobs were challenging and exciting. "


Mrs R Schuurman: "Super entertained during the children's party. Very fun routes. Plenty of challenge. "


Here you can find Klimbos Harderwijk
Directly along the A28
near Harderwijk, less than
20 minutes from
Amersfoort & Zwolle
Boekhorstlaan 2
3847 LP Harderwijk
info@klimbosharderwijk.nl