Enjoying after climbing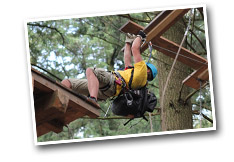 Harderwijk is a pleasant Hanseatic city on the Veluwe. Therefore, there is plenty of tourism in the summer months and there are many facilities for a pleasant dinner or weekend trip. For example, there are various campsites, bungalow parks and hotels, all within easy reach of Klimbos Harderwijk. In Harderwijk, you can enjoy In Harderwijk you can have a lovely dinner in one of the cosy restaurants in the city centre or on the boulevard.
Klimbos Harderwijk only offers soft drinks, coffee, tea and snacks in the climbing forest. It is not permitted to consume your own refreshments in the forest. Klimbos Harderwijk is the neighbour of fast food chains La Place, KFC and Burger King, where you can enjoy a quick snack after climbing.
Camping farm/group accommodation
- The Aalbertshoeve Group accommodation -
www.aalbertshoeve.nl
- Country estate Hoeve Kindergoed -
www.hoevekindergoed.nl
- Kamphuis Fijnoord -
www.kamphuis-fijnoord.nl
- YMCA Hulshorst -
www.ymcakampeercentra.nl
Leisure Parks & Campsites
- Recreation park De Boskant -
www.deboskant.nl
- Camping park de Vuurkuil -
vuurkuil.nl
- Minicamping 't Hofje -
campingthofje.nl
- Camping de Peperkamp -
www.depeperkamp.nl
- Landal Green Parks Rabbit Hill -
www.landal.nl/rabbithill
- Camping Klavertje vier -
www.campingklavertjevier.nl
- Landal Waterparc Veluwemeer -
www.landal.nl/parken/waterparc/veluwemeer
- Camping de Konijnenberg -
campingdekonijnenberg.com/
- Camping & Chalet Park de Hanenburg -
www.chaletparkdehanenburg.nl
- Recreation park De Bosuil -
www.bosuil.com
- Vrijrijck de Heivlinder -
www.vrijrijckvakantieparken.nl/bospark-de-heivlinder
- The Toverberg holiday park -
magic-mountain.com
- Bungalowpark het Verscholen Dorp -
www.verscholendorp.com
- Holiday park Uddelermeer -
www.uddelermeer.com
- Recreation park Samoza -
www.samoza.nl
- Camping and Bungalow Park the Haeghehorst -
haeghehorst.ardoer.com
- Holiday park The Doppenberg -
stadscampingharderwijk.nl
- Hof van Benten -
hofvanbenten.nl
Hotels
- Hotel de Vossenberg -
www.hoteldevossenberg.nl
- Best Western Hotel Baars -
www.hotelbaars.nl
- Hotel Marktzicht -
hotelmarktzicht.nl
- Beach Hotel Monopole -
hotelmonopole.com
- Hotel de Zwarte Boer -
www.dezwarteboer.nl
- Golden Tullip Delight of Ermelo -
www.goldentulipheerlickheijdvanermelo.com
- Roode Koper Estate -
www.roodekoper.nl
- Van der Valk Hotel Harderwijk -
www.hotelharderwijk.com
- Hotel Allure -
allureharderwijk.nl
- Hotel Dorhout Mees -
www.dorhoutmeest.nl/hotel/
- Essenburgh Castle -
www.kasteelessenburgh.com
- Hotel Villa Vennendal -
www.villavennendal.nl
- Hotel Flevo -
www.hotelflevo.nl
- Hotel/restaurant de Malle Jan -
www.hoteldemallejan.nl
- The Forests -
foreesten.nl
- Hotel Pension Vierhouten -
www.hotelvierhouten.nl
Bed & Breakfast
- The Sternhof -
www.sternhof.nl
- The Hessenhoeve -
www.cottage-hessenhoeve.nl
- Bed&Breakfast Veluwemeer Pension -
veluwemeerpension.nl
- The Spoilery -
www.benbdeverwennerij.nl
- B&B The Old Road -
www.deoudeweg.nl
- Bed and Breakfast Harderwijk Onder de Dekens -
www.onderdedekens.nl
Climbing at a discount!
Are you an early bird? Then come climb in the morning to
9.30 a.m.
and benefit from a nice discount.
What did our visitors say?
Judith Boertjens: "Beautiful birthday had, the kids had a great time climbing and the birthday boy really enjoyed it. Highly recommended!"


Mrs I Andriesen: "Had a very nice outing with some friends. Especially since it was still pretty quiet. We were able to do our own thing and laughed a lot."


Mrs T vd berg: "Super enthusiastic and helpful staff!"


Ce Kalac: "Not worth repeating. Setback and waste of money. Information on website is misleading making you think it is also suitable for small children. Not recommended!"


Peter Lisseveld: "Lovely location with some nice tracks. Not the most challenging park that I've been to but very nice and well maintained. It was quite crowded which caused waiting lines."


Here you can find Klimbos Harderwijk
Directly along the A28
near Harderwijk, less than
20 minutes from
Amersfoort & Zwolle
Boekhorstlaan 2
3847 LP Harderwijk
info@klimbosharderwijk.nl